SoftElegance invites you to attend the business meeting "The Future Of Custom Software Development" in Oslo
With the support of Embassy of Ukraine to the Kingdom of Norway and Norwegian Ukrainian Chamber of Commerce.
The business meeting will be held by SoftElegance at the Embassy premises at Arbins Gate 4, 0253 Oslo, Norway from 9:00 to 12:00 on the 21th of April of 2015;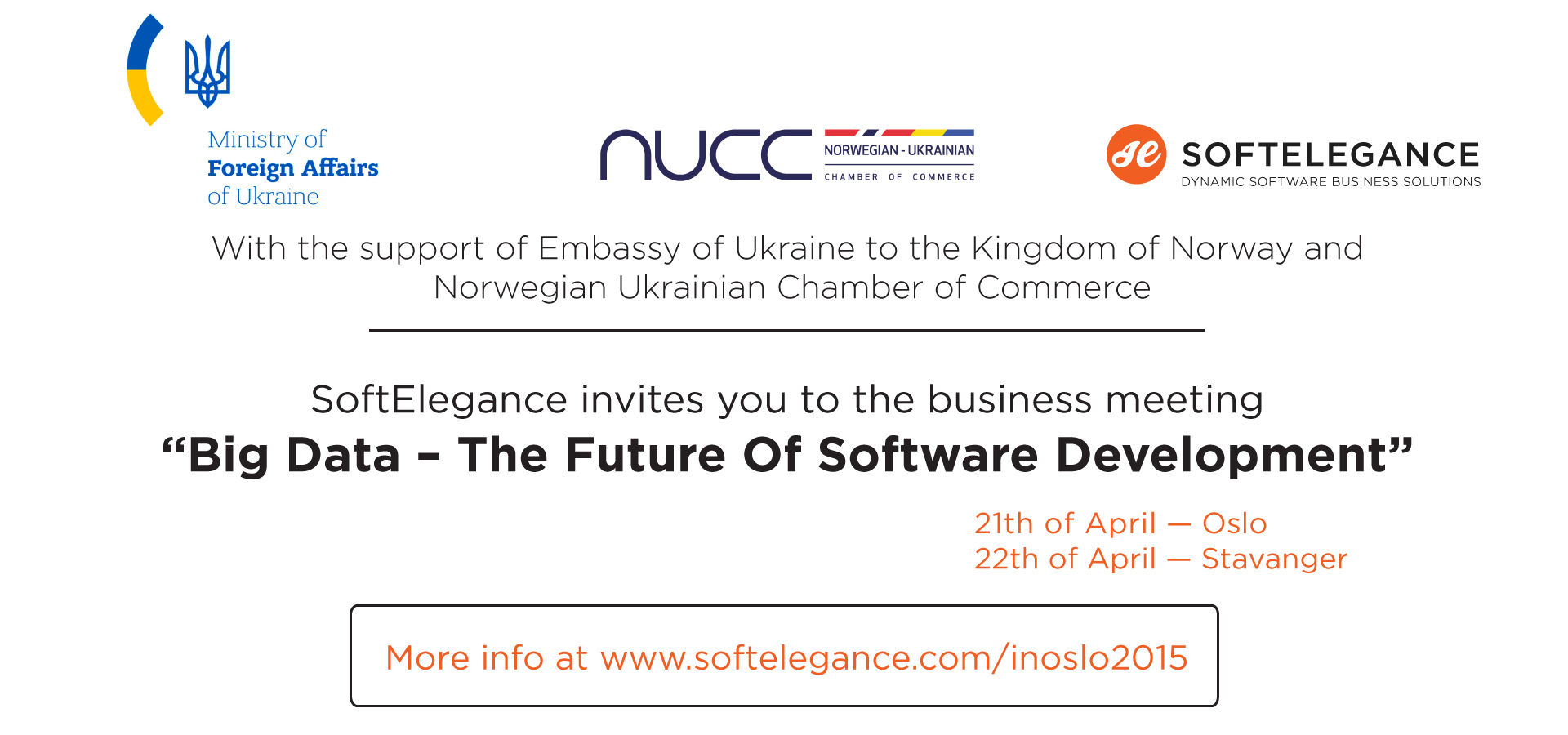 More information about the meeting available at:
— Official event's website;
— Official announcement by Norwegian Ukrainian Chamber of Commerce;
— Online registration.
The following persons have already confirmed their participation:
— Oleh Hrabovetskyi (Chargé d'Affaires a.i. of Ukraine to the Kingdom of Norway);
— Henrik Seip (Managing Director, Eastern Europe Group);
— Arnfinn Nordbo (Project Manager, Norwegian Ukrainian Chamber of Commerce).
During the meeting, SoftElegance CEO Mr. Andriy Stolbov will present his research about Big Data, DevOps and best practices for custom software development for Enterprises.
The event schedule is the following:
9.00 – 9.15 Welcome note;
9.15 – 9.45 Big Data. Should You Be Prepared For Big Data Era;
9.45 – 10.00 Discussion;
10.00 – 10.15 Coffee Break;
10.15 – 10.45 DevOps. How To Know Are You Really Doing DevOps;
10.45 – 11.00 Discussion;
11.00 – 11.15 Coffee Break;
11.15 – 11.30 Custom Software Development. Case Studies For Oil And Gas Industry;
11.30 – 11.45 Discussion;
11.45 – 12.00 Closing Session.
You can reach SoftElegance's representatives to discuss business inquiries via:
Skype: anna.poloka
Email: apoloka@softelegance.com

SoftElegance is a custom software development outsourcing company with more than 20 years experience in providing sophisticated business software and SaaS solutions, mostly for oil and gas and manufacturing industries. SoftElegance has offices in London, Houston and Kyiv, and customers in Norway, Denmark and the U.S.
Cooperation with SoftElegance helps customers to achieve business goals, optimize business processes using up-to-date software solutions, and make business more successful. SoftElegance assists clients on every stage of project – from the consulting on improving current software, developing new one, its testing and launching it into production. SoftElegance is a member of Norwegian Ukrainian Chamber of Commerce, CompTIA (the Computing Technology Industry Association), and The German Austrian Swiss Outsourcing Association.